Kimia Facial Rejuvenating System
By Jessica, June 27, 2011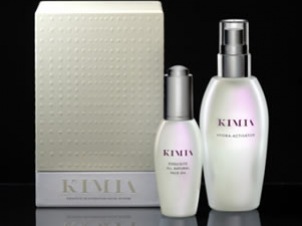 Kimia is a luxury natural skincare brand that promises to combat and even reverse signs of ageing while healing daily stresses and strains in the skin. Centered around specially selected essential oils, their products are free from all synthetic ingredients, colours and fragrances.
Kimia Exquisite Facial Rejuvenating System
The Facial Rejuvenating System from Kimia is based on an elaborate blend of entirely natural ingredients. A two-step process comprising of an oil and hydrator spray, it promises to work deeply and dramatically for velvet soft skin with an exuberant youthful glow. The brand is regularly name-checked by in the media by the likes of Victoria Beckham and has developed an exclusive following around the world.
The oil contains, among other things, calendula, rose, rosehip, cranberry and neroli oils; while the activator spray blends peppermint water, rosemary, Lady's Mantle, witch hazel, lavender and lemon balm. To the ears, a noxious frenzy essential oils; but to the nose this combination is beautifully understated – an intoxicating but subtle blend of light florals.
Around six drops of the oil go on first, rich and distinctly un-oily. This is followed with an equal number of pumps from the spray to increase absorption of the oil and accelerate the removal of dead skin cells. The resulting liquid is massaged into the skin in circular motions for less than a minute and you're done.
Skin is left feeling deeply and lastingly moisturised after using the Facial Rejuvenating System, a welcome change from the short-lived surface hydration that often comes with over-hyped wonder products. In fact, the look and feel of the skin after use is very much what you would experience after a particularly indulgent facial.
Kimia products are available exclusively from The Spa at Kilronan Castle in Co. Roscommon, who also offer a range of Kimia spa treatments. The Exquisite Facial Rejuvenating System is €99.