Is Kerry Ireland's Spa Capital?
By Niamh Hynes, September 27, 2022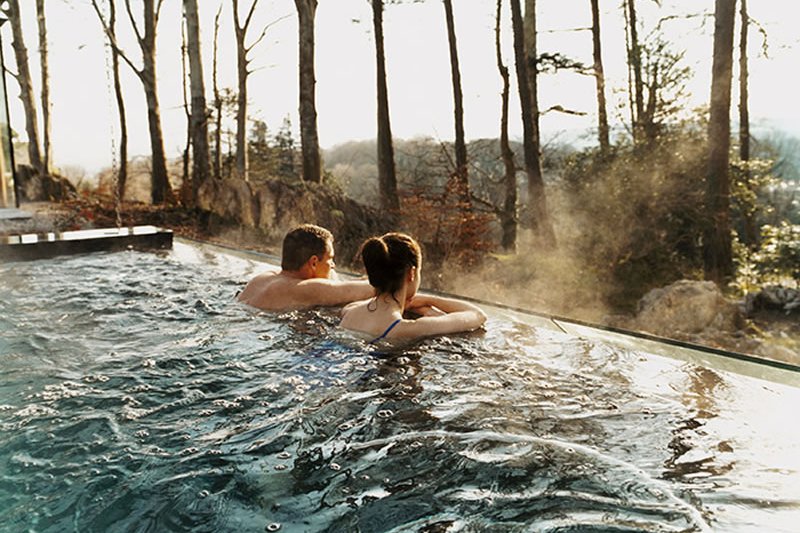 There are already more than enough reasons to visit the majestic county of Kerry, but here's another: the Kingdom may have the unofficial claim to being Ireland's spa capital.
Despite its modest population size, Kerry is home to 19 spas, making it the county with the highest number of spas per head. In other words there's one spa for every 8,000 people living in the county.
While inhabitants and visitors to The Kingdom have a great selection of Spas, here are some other compelling reasons why Kerry reigns supreme in the spa & wellness domain.
Natural Settings
The title of "The Kingdom" is fitting, given that it boasts some of the most stunning scenery in the country. From the magnificent peaks of the Ring of Kerry, through the lush greenery of Kilarney's parks to the rocky coastline of the Wild Atlantic Way, the county's natural environments don't disappoint.
Connecting with nature is a great way to reduce stress levels while harmonising the body, mind and soul. Gina Groves, Spa Manager at Nádúr Spa at Ballygarry Estate can easily see the draw of the Kingdom for visitors: "There's no better place than Kerry for those seeking wellness. The county's lush green spaces and spectacular natural environment provides the perfect backdrop for health and wellbeing focused activities."
Undoubtedly this backdrop has a bearing on the number of spas that now claim Kerry as home. Many of Kerry's Spa venues have thoughtfully integrated their natural environments into their properties resulting in some stunning spa vistas.
Sióbhan O'Shea, Sales & Marketing Manager, at Aghadoe Heights Hotel & Spa believes wellness seekers are spoilt for choice: "Kerry is blessed to host some of the country's world-renowned spas. From gazing out at the highest mountain in Ireland, Carrauntoohil, in the thermal suite at The Aghadoe Heights Hotel and Spa, to being submerged in the rugged natural beauty of the Atlantic Ocean that engulfs Parknasilla Resort & Spa"
The spectacle of Kerry's landscape is the perfect accompaniment to a rejuvenating spa experience, where you can truly escape the grind and go off-grid. "Our landscape is a tranquil haven, with many spas to choose from," remarks Sharron O'Connor, Spa Manager at Peninsula Spa at The Dingle Skellig Hotel. "Wellness is not just about having a treatment but being able to soak up your surroundings to create a relaxing and soothing atmosphere to really switch off."
A World of Wellness
Spas may be the tip of the wellness iceberg in Kerry but there are more subtle examples of how living well is woven into Kerry life.
A culture of sustainability and using local resources can be recognised in Kerry. Towns like Kenmare, Tralee, Dingle and Killarney offer no shortage of shops to pick up local produce and restaurants where you can sample delicious healthy food.
Within most of Kerry's hotels you will be presented with menus that are inspired and supplied by fresh local produce.
Park Hotel Kenmare strives to get all their produce within 30 miles of the hotel. Their menu is based around what comes from their Kitchen Garden and the rest of the supplies are from the local fisherman, cheesemaker, dairy farmer, baker and market gardener.
The seasonal menu at Sheen Falls Lodge reflects the fresh, organic produce on offer in Co. Kerry with their estate-smoked salmon, mountain lamb, organic vegetables, and micro herbs grown nearby.
The Europe Hotel takes the farm to fork concept a step further. Their own 400 acre farm raises cattle and lamb that are served at the hotel. They also run an in-house bakery while working with other local producers. All these elements contribute to delivering an exceptionally high level of fresh sustainable produce for their guests.
Walking is one of the easiest ways to immerse yourself in nature. Kerry is rich in trails from rugged mountain hikes to leisurely shoreline strolls to sheltered forest walks.
Parknasilla Resort and Spa is located on a 500 acre estate and home to 10 unique natural trails. The resort also offers numerous curated experiences like sea kayaking, golf and archery.
A minutes' drive from Kenmare, brings you to the peaceful surrounds of Sheen Falls Lodge. Here you can go horseback riding on the grounds, take a walking/cycling tour of Kenmare town, or kayak on Kenmare Bay.
Sióbhan, from Aghadoe Heights Hotel & Spa recommends guests to get some vitamin sea for the soul by "taking the plunge with a swim at Inch Beach".
For those looking for less invigorating experiences, Aghadoe Heights offer Yoga and meditation aimed at well-being for the mind and soul. "Here you can breathe and be still in the freshest of air that Kerry has to. Allow yourself to recharge and disconnect from the busyness of life and you will leave with a true sense of wellness."
Park Hotel Kenmare's relaxing on-site schedule includes candlelit meditation and guided relaxation for you to enjoy, alongside their nurturing spa treatments.
Luxury in abundance
If you feel called to indulge in a treatment that's a little more luxurious, you'll be spoilt for choice in Kerry. Not only does the county boast the most spas in Ireland per head, it also has the highest concentration of 5-star hotels with spas. Seven of Kerry's spas are located in 5-star hotels, with a further nine spas found in 4-star hotels.
For a pampering escape, ESPA at The Europe won't disappoint. The spa boasts a heated outdoor vitality pool and an indoor pool with infinity edge and poolside loungers. This unique pool position optimises the spectacular views of Killarney's Loch Léin that are on offer.
An unforgettable experience awaits at the decadent Sámás Spa at the 5* Park Hotel Kenmare. Home to a 25 metre indoor pool, it also features an outdoor heated vitality pool. Kick back along the outdoor pool's infinity edge and recharge while enjoying the views of Kenmare Bay peeking through the trees.
If you are interested in discovering more of Kerry's spas, view all of the Spas in Kerry here.