Indian Head Massage
By Orla, July 17, 2014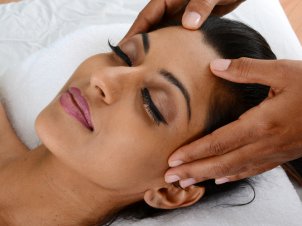 Indian head massage stems from an ancient Ayurvedic healing system dating back to over 1000 years ago. It focuses on relieving the effects of stress and is ideal for those suffering from aching shoulders, a tight neck, eye strain, headaches, insomnia, poor concentration and in particular, hair loss.
What happens during the treatment?
This type of head massage focuses on massage of the soft tissues in the upper back shoulders, the arms, neck, scalp and face. A combination of massage techniques and rhythms stimulate these areas to help restore the natural flow of energy and release any areas of negativity and stress.
The beauty of Indian head massage is that is not just a physical massage, it also works on an emotional and psychological level to calm the spirit and promote relaxation of the body and mind. It also refocuses the mind and promotes alertness and concentration. A typical massage will be carried out by a therapist and can last up to 45 minutes. It can be performed fully clothed with the client seated.
What are the benefits?
Improved blood circulation

Stimulation of hair growth

Release of stress and mental tension

Clears the mind and improves alertness and concentration

Relief from headaches and migraines

Relief from anxiety and insomnia

Reduces eye strain

Calms the respiratory system

Deep sense of relaxation and wellbeing

Balance of energy flow throughout the head, neck and shoulders

Improves lymphatic drainage from the head and neck

Improves muscle tone and mobility in the head, neck and shoulders
Indian head massage is available at Castlemartyr Resort and Spa in Co. Cork, Rainforest Spa in Co. Wicklow, Spirit Health & Beauty Spa in Co. Waterford and many more spas around the country.