How to Make Easy Homemade Exfoliating Body Scrubs
By Orla, August 14, 2013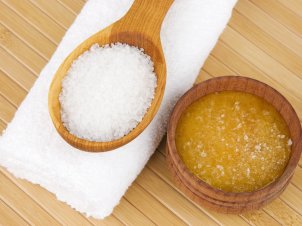 To maintain beautiful smooth and youthful looking skin, you definitely need to exfoliate. Exfoliating removes the layer of dead skin cells on the surface and also cleans out dirt from your skin pores.
This layer of dead skin can cause unflattering dry patches and those uneven lumps and bumps we hate to see.
Once that layer of skin is gone, your skin will look and feel healthier and smoother. But there's no need to go out and buy pricey exfoliating gloves or body scrubs when you probably have all the ingredients lying around at home to make one yourself.
The Basics of Body Scrubs
Most scrubs contain either salt or sugar, to remove dead skin cells, and an oil or moisturising ingredient to nourish the new layer of skin. While salt is excellent for exfoliating them rough patches around the elbows and knees, it can be a little harsh on the skin so if you have sensitive skin, it might be safer to opt for sugar.
Not only is it cheaper to make your own exfoliating body scrub, but you're also cutting out any preservatives and chemicals that you might find in commercial products. And here's how you do it:
Sweet Coconut Vanilla Sugar Scrub
Ingredients
1/2 cup of coconut oil
1/2 cup of brown sugar
1/2 teaspoon of vanilla extract
This body scrub is almost a treat to use with it's sweet and heady aroma. Coconut oil contains excellent moisturising properties and sugar is known to leave the skin soft and smooth. Apply liberally while in the shower, massage into the skin for a couple of minutes and rinse with warm water.
Lemon and Thyme Salt Scrub
Ingredients
1 cup of kosher salt (salt with large grains)
½ cup of pure organic almond oil
The zest of one lemon
2 teaspoons of fresh thyme leaves
Salt works wonders for softening and detoxifying skin, but scrubs with salt should only massaged into the skin for roughly one minute as it can be harsher on the skin.
The sweet almond oil creates a wonderful fragrance and moisturises the skin, while the lemon and thyme contain antioxidants to leave your skin feeling rejuvenated and refreshed. Apply in the shower, massage for one minute and rinse with warm water.
Either of these homemade body scrubs will leave your skin soft and smooth with a lasting glow, with minimal effort and costs.