Honey & Irish Whiskey Treatment To Be The Next Big Thing
By Orla, December 8, 2014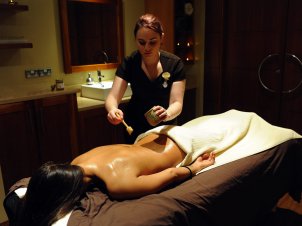 Following the release of the Irish Spa Awards Winners 2014, it looks like spa and beauty treatments are going to be all about honey and whiskey in 2015.
The Irish Spa Awards ran an Indigenous Irish Treatment award category which encouraged therapists around the country to create a unique Irish treatment, using only ingredients grown in or native to Ireland.
The Irish Spa Awards were said to have seen everything from peat, moss, spuds, stout and beeswax entered into the exciting award category. While all of the native Irish ingredients entered had beneficial properties, there could only be one winner.
The highly coveted award went to Nádúr Spa at Ballygarry House Hotel in Co. Kerry. Designed by therapists, Gina Groves and Emma Garry, The Honey & Irish Whiskey Salted Body Scrub proved to be the judge's top pick.
The treatment starts off with an intense scrub consisting of Irish whiskey, fine Dead Sea salt and organic honey from beehives in Gina's very own beehive apiary. The finishing touch to the award-winning treatment is a sweet honey body balm consisting of beeswax, again from Gina's beehives, organic oils and fairtrade butters.
The treatment proved to be extremely beneficial for the skin due to it's healing ingredients:
Honey is a natural antiseptic. It draws out grime from skin pores and removes dead skin cells

Whiskey also has antiseptic properties and is excellent for healing acne breakouts

Dead Sea salt contains potassium which regulates moisture levels in the skin and can relieve aches and pains, as well as skin problems such as acne

Beeswax which is used in the Sweet Honey Body Balm after the scrub is a hydrating ingredient in its own right and provides a protective barrier for the skin.
Close runners up included a "Detox By The Sea" treatment from the Peninsula Spa at Dingle Skellig Hotel and a "Garden of Ireland Body Balm" by Rainforest Day Spa.
Speaking to Gina Groves from Nádúr Spa, she described the whole concept as "a fantastic idea".
"Ireland has a lot of natural and raw ingredients right on our doorstep and to be given the chance to develop them into products and treatments was wonderful. I'm an avid beekeeper and to be able to combine this hobby with my work in a sustainable way was really special to me", she added.