Holiday Spa Specials
By Jessica, July 10, 2012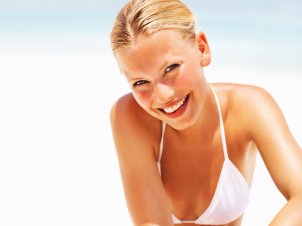 Forget the gym for getting bikini ready, head to the spa and get waxed, plucked, tinted and tanned with one of the many seasonal spa specials currently on offer.
Summer Glow at ESPA at The Ritz-Carlton
ESPA at The Ritz-Carlton in Co. Wicklow is offering a package of a Salt & Oil Scrub, a Revive Facial, and an Express Pedicure or Manicure, all for just €135 midweek or €155 on weekends.
Summer Beauty at Rain Spa & Wellness Clinic
Rain Spa & Wellness in Co. Limerick is currently offering a half leg, basic bikini, underarm and eyebrow wax all for the price of €35 (normally €45). You can also combine this offer with their second special of €20 off all facials until the end of July.
Slimming Package at Vedas Beauty
Vedas Beauty in Dublin has compiled a choice of treatments to help you prepare to bare on the beach. Begin with half an hour in the mild Infra Red Sauna, then choose from one of three 90 minute slimming treatments: Seaweed Body Wrap, Self-Heating Algae Treatment or an Anti-Cellulite Essential Oil Treatment. The package is €90.
Holiday Package at Revive Treatment Room
Revive Treatment Room in Co. Kildare has combined all their plucking and polishing treatments into one package especially for the summer holidays. Avail of a half leg wax, bikini wax, eye combo and a file and polish on both hands and feet, all for just €70.
Summer Sparkle at The Victorian Treatment Rooms
The Victorian Treatment Rooms in Co. Monaghan is currently running a head to toe special. Enjoy a luxury Jessana Manicure and Pedicure with massage treatments and polish and a Summer Exfoliating Facial for €85. Time in the hot tub and steam room is also included.
40% Off at Senses Day Spa
Senses Day Spa in Dublin has put together a package of three summer holiday treats to relax and rejuvenate before your holidays. Receive an Aromatic Full Body Exfoliation, a Spa Capsule Session and a Mini-Facial, all for just €60 (normally €100).
Peepers, Pinkies & Piggies at The Heritage Golf & Spa Resort
Cover all your bases at The Heritage Golf & Spa Resort in Co. Laois with their Peepers, Pinkies & Piggies package. Receive an eyelash tint, eyebrow shape and tint, and a file and polish of both hands and feet for €55.