Hissyfit Body Moisturiser
By Jessica, September 20, 2012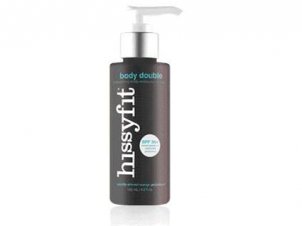 Hissyfit is predominantly a make-up brand, with just two skincare products in the range – a body cream and a hand cream. The inspiration for the brand's name is said to have come from the 'fit of anger experienced by the founders at the lack of simple cosmetic products on the market that were easy to apply and produced instant results'.
Hissyfit Body Double Body Moisturiser
The Hissyfit moisturiser proclaims a disconcerting combination of fragrances on the front of the bottle: vanilla, almond, grapefruit and orange. Further inspection of the ingredients reveals aloe vera is also in the mix, hinting at a less than desirable olfactory outcome.
The consistency of the moisturiser is extremely rich and creamy, but it absorbs well after some gentle massaging. The fragrance was a pleasant surprise – more chocolatey than anything else. Perhaps a bit sweet for some tastes, I actually quite liked the lingering cocoa scent that subtly clung to the skin for the rest of the day.
And beautifully moisturised skin at that. Even the driest of dry patches were soothed, skin felt completely hydrated, and results lasted the entire day. The cream is also said to have anti-ageing effects thanks to its abundance of antioxidants and environmental damage-protecting ingredients.
The delicious scent combined with silky soft results and a much appreciated SPF of 30 comfortably places Hissyfit Body Double in the same league as much more established brands. Available from selected pharmacies nationwide, Hissyfit Body Double retails at €34.95 for 125ml.