Healthy Spiced Pumpkin Soup
By Jessica, October 30, 2012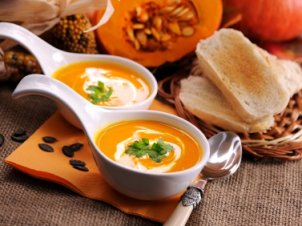 Supermarket shelves are overflowing with oddly-shaped, vividly-coloured pumpkins this month – but they are good for a lot more than just carving with the kids. Pumpkins are a highly nutritious vegetable packed full of Vitamins A and C. Low in fat, they are also a good source of fibre, iron and an abundance of other minerals. And, if cooked right, there is nothing more delicious than pumpkin pie, pasta or soup on a chilly autumn's evening.
This incredibly simple recipe is ideal for taking advantage of the masses of pumpkins currently available – or simply for putting that ghoulish figure in your window to good use after October 31st. Happy Halloween!
Ingredients
1 small-medium sized pumpkin
3 tbsp unsalted butter
1 litre (approx) vegetable/chicken stock
Small onion, finely chopped
2-3 cloves of garlic, finely chopped
2 tsp curry powder
1 tsp cumin
1 tsp chilli powder (optional)
1 tsp fresh/ground coriander
Pinch of salt
Method
1. Cut your pumpkin into large chunks (quarters should do it), remove the seeds and slather with butter and a pinch of salt. Place on a baking tray in a preheated oven at 190C to roast for an hour or until soft.
2. Let the pumpkin cool then gently fry the garlic and onion. Scoop the fleshy part of the cooled pumpkin into the saucepan and place on a medium-high heat. Add around half the stock (500ml approx), the spices and the coriander and bring to a simmer.
3. Remove the mixture from the heat and puree with a hand blender or food processor. Gradually add the remaining stock until you reach the desired consistency – the amount of stock you need will depend on how thick you want the soup to be.
4. Return to the heat, let simmer and season to taste. Serve with a dollop of crème fraiche and a handful of roasted pumpkin seeds on top.
Variations
You can also add vegetables such as carrots, celery, leeks, sweet potato or squash to the soup. Simply roast for around 20 minutes at 190C before adding to the pot with the pumpkin.
For a richer soup, substitute some of the stock with 75ml of cream.