Healthy Red Berry & Vanilla Pancake Recipe
By Jessica, February 12, 2013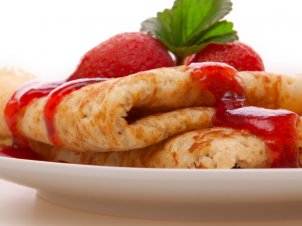 Pancake Tuesday and Valentine's Day fall within days of each other this year, so what better way to celebrate the two than with a romantic breakfast in bed? Treat the lucky lady in your life to these red-berry and vanilla infused pancakes and you'll score extra points for making something as healthy as it is delicious.
Ingredients
Makes 8 pancakes approx.
• 130g Plain flour
• 2 tsp Baking powder
• 1 tsp Sugar
• Pinch of salt
• 1 Egg
• 230ml Milk
• 2 tbsp Vanilla extract
• 100g Chopped fresh strawberries and raspberries

Method
1. Beat the egg, milk and vanilla extract together.
2. Stir the dry ingredients together in a bowl, then gradually add in the liquid mixture.
3. Add the chopped berries, keeping some for sprinkling on top of the cooked pancakes.
4. Cook in a lightly oiled frying pan over a medium heat.