Health Spa etiquette
By Jessica, August 31, 2007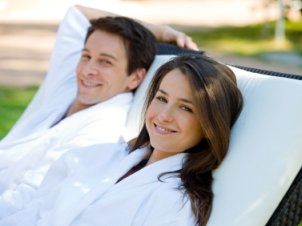 Spa etiquette – acceptable behaviour and conduct by guests and therapists at health spas – may vary from spa to spa, but these guidelines will serve you well. The spa etiquette code helps ensure that therapists are professional and efficient and guest behaviour appropriate. The code also assists guests in knowing what to expect.
Guest Etiquette
Arrive on time or a little early.
Generally, you are expected to get undressed completely for dry treatments (such as massage) where a drape is placed over your body in order to protect your dignity. In the case of wet treatments such as scrubs and hydrotherapies, you will not be draped (swimsuits are optional in some treatments).
Give your therapist feedback. Let her / him know if your have any special needs or disabilities so that your visit is comfortable.
Know that you are in a professional spa environment and do not expect anything other than therapeutic or spa services.
Communicate your preferences during treatments so that therapists can adjust to you.
Be considerate to yourself and others. For example turn off your mobile phone and be mindful of other clients space.
If the spa allows children, do not leave them unattended as this can be disruptive to other spa-goers and unsafe for your children.
You may relax for a while once a treatment has be completed, but please be aware that the treatment room needs to be prepared for the next client.
Establish from reception if gratuities are included or not – and be prepared (according to the quality of your experience and desire) to tip or not.
Do not take food or refreshments to a spa.
Unacceptable guest behaviour
Insisting on services or treatments that have not been booked.
Demeaning and abusive behaviour toward staff.
Smoking, eating or drinking during treatments.
Therapist Etiquette
Do not claim to cure.
Do not abuse the trust of guests or exploit their lack of knowledge.
Do not discuss other therapists with guests.
Respect confidential information.
If a serious disorder is suspected, enquire whether the guest has consulted a doctor and determine the nature and extent of any diagnosis by the doctor.
When a doctor refers a guest, their instructions must be scrupulously observed.
Do not smoke, eat or drink during treatments.