What is a Hammam?
By Orla, February 2, 2014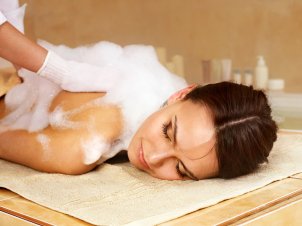 Hammams, also known as Turkish baths, originated in Istanbul during the Victorian era. They are used as a cleansing and relaxing treatment, but in years gone by they were so popular that the Turks even used them for socializing.
So what exactly is a Turkish bath?
It consists of a room filled with very hot air or steam, which is sometimes split into two rooms, a warm room and a hot room. Then it is generally followed by washing or a massage and cooling down. Although it sounds a lot like a sauna or steam room, it is an entirely different experience.
What happens in the hammam?
The bather begins in the warm room which is full of dry, hot air that circulates freely through the room. There is typically benches or chairs for the bather to relax in.

After relaxing and sweating in the warm room, you can move into the hot room if the spa has both options available. Bathers can generally spend as long as they want in the hot room, it usually depends on how long they can handle the heat. Depending on the hammam, there may be cool water available to you to help you cool down.

Your therapist may offer to wash or scrub you using a coarse mitt and lots of bubbles to remove any layers of dead skin, or you may wash yourself instead.

There is often a stone platform in the hammam where you receive your massage, which can be a little rougher than a Swedish massage.

Many hammams have a cooling down room where you can return to normal body temperature and completely relax and unwind before leaving the hammam.
If your interested in experiencing a hammam here in Ireland, see the full list of Spas with hammams.