Futuresse
By Jessica, February 10, 2010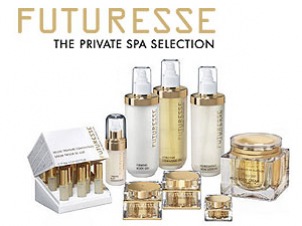 The philosophy behind Futuresse is to combine the traditions of the Far East with the advances in research made in the West.  Produced in Europe, the brand claims to be best surmised by 'Eastern mystique, made in Germany'.
A word combination of 'future;' and 'caress', the line comes from same manufacturers as the Biodroga products.  It is designed exclusively for discerning, high-end spas.
The central ingredient to all Futuresse products is extract from the precious lotus blossom.  Plucked from the mountain lakes of Myanmar, the lotus is a symbol of eternal life in many Far Eastern countries and is believed by many to possess sacred powers.
Lotus is also said to have anti-ageing properties, along with other key ingredients in the products such as collagen, marine extracts and extract of caviar.  These are enhanced with the addition of substances such as revitalin.
Futuresse spa treatments incorporate lotus massages, hand and arm exfoliations and often a caviar sheet applied to the face.  Specific treatments also include warm wraps, treatments for the feet, regeneration pearls to firm the bust area, and head and ear massages.
Products available for purchase are limited to just nine in number.  These are comprised of cleansing oil, firming body gel, refreshing skin lotion, body cream, firming bust concentrate, deluxe treasure concentrate and luxurious day, night and eye care creams.
Futuresse treatments can be found exclusively in Aghadoe Heights Hotel & Spa, Killarney, Co. Kerry.