Five Ways to Make Exercise Easier
By Jessica, August 16, 2012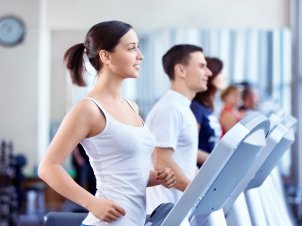 Exercise isn't meant to be easy – if it is, you're not doing it right. It is possible however, to make it that little bit more tolerable without sacrificing its effectiveness. Try these five simple tips to help you stick with, and maybe even enjoy your fitness routine.
Start Small & Regular
Going from couch potato to marathon winner won't happen overnight. Rather than setting yourself an impossible goal that will dishearten and discourage you, start small instead. Don't join any gyms or buy any equipment to begin with, just start walking. Once a day, every day, go out for a 15 minute walk. This will help form the habit of getting out and about. After a week, break up your walk with 60 seconds of gentle jogging every few minutes. Continue in this vein and watch as your routine builds in line with your new endurance.
Buddy Up
Take your mind off what you're doing by enlisting an exercise buddy – someone to talk to and provide distraction from what you're doing. What's more, starting an exercise plan with a friend can give you the motivation to hit the gym when you would otherwise stay comfortably on the couch. While you may think nothing of forgoing your own jaunt to the gym, you won't want to let your friend down.
Distract Yourself
It's easy to spend your entire workout thinking of nothing other than how much it hurts or where else you would rather be. If you can't find a chatty friend to drag along, try other distractions such as a playlist of your favourite songs, watching TV while on the bike at the gym or trying a fun form of exercise (they do exist!). Sign up for a zumba, dance or other class and laugh the lazy away.
Choose Carefully
The backdrop to your workout can greatly affect your state of mind. Walkers and joggers should regularly shake up their route to keep it interesting and alter intensity. Not a fan of the great, rainy outdoors? Join a gym. Can't stand the tedious treadmill? Enrol in a fast-paced exercise class in a style you enjoy. Most classes now offer drop-in options for first timers, making it even easier to find your favourite without committing to a course.
Variety is the Spice of Exercise
Focusing on the same exercise not only becomes very boring very quickly, it also reduces the effects on your body. Change up your routine by alternating cardio sessions with strength training and flexibility exercises for optimum results. Most fitness centres now offer classes in yoga, Pilates and more, so gym bunnies can alter their workout without going too far. Some even open up their classes to non-members, meaning there's no excuse not to try your hand at the latest offerings.