Everything You Need to Know About South William Clinic & Spa
By Orla, October 9, 2015
Dublin's newest spa is drumming up a lot of attention as the highly-anticipated launch event nears.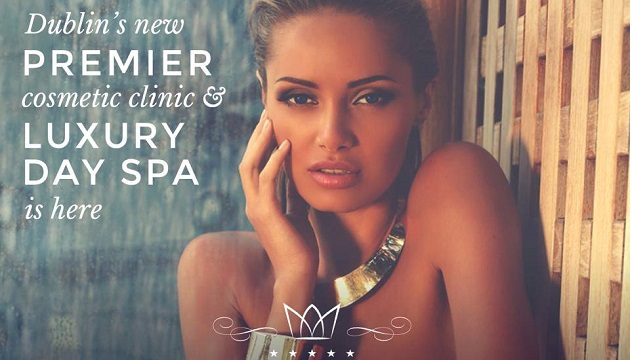 Situated on South William Street in Dublin, the luxury day spa & clinic is set to be a hub for all your beauty, wellness and skincare needs. There are so many innovative treatments and technologies being offered that it's probably going to exceed all of our wildest dreams.
South William Spa: What can you expect?
The spa end of things will provide a haven of calm and tranquility amid the hustle and bustle of Dublin city. It will be home to swanky treatment rooms, relaxation suites, a beauty lounge, cryogenic sauna, vitamin-infused thermal jets and lots more.
Yon-Ka
South William's signature brand will be the renowned skincare brand, Yon-Ka. Spa-goers can enjoy everything from Yon-Ka facials, seaweed slimming body treatments, marine mud wraps, eye contouring treatments, acne treatments to body scrubs and polishes.
Yon-Ka x South William Spa's Signature Treatment
Last but by no means least is the head-to-toe Yon-Ka Signature Treatment. This is no ordinary Yon-Ka treatment, it's more of a spa experience and was developed by Yon-Ka experts specifically for South William Clinic & Spa. It includes an array of relaxing therapies including massages, exfoliation, face masks, LED photo therapy and more.
And here's how you can win it…
Luckily for you, Spas.ie is giving away 2 of these Signature Spa Experiences to one lucky winner. Enter here now: WIN! Signature Experience at South William
What else can you expect from the Day Spa?
Facials
LED Phototherapy Facials which can accelerate the skin's healing process
Microdermabrasion facials for intense exfoliation of the skin
Anti-ageing facials
JetPeel Hydrofacials for a non-invasive approach to younger skin
Massage
Hot Stone Massage
Holistic Massage
Pregnancy Massage
Lava Shell Massage
Aromatherapy Massage
Indian Head Massage
Reflexology
Beauty Essentials
Manis & Pedis(they'll be giving complimentary bubbly with these too!)
All the necessary waxing treatments using Waxperts Wax
Mink Individual Eyelash Extensions
Threading
Infinity Sun Spray Tanning
Teeth Whitening
Get those pearly whites gleaming with the safe, tried and tested Zero Max formula as seen on RTÉ. Not only will the Smile Perfect Teeth Whitening package lighten your teeth up to 10 shades whiter, it also kills a multitude of bacteria in your mouth helping to fight gum disease.
South William Clinic: What can you expect?
The cosmetic clinic in South William Clinic & Spa will feature both invasive and non-invasive procedures that are wholly results-driven. There is no one-size-fits-all package here. Highly skilled professionals develop individual treatment plans tailored to what your skin needs and what you want to achieve.
Laser Hair Removal
If you've ever went for Laser treatments you'll know that it's a long process, doesn't always work perfectly and is quite pricey. South William Clinic & Spa has waved goodbye to the oudated IPL systems of the past and is ready to show you just how effective laser hair removal can be. The clinic will use cutting-edge technology from Syneron Candela and currently have some unbeatable value offers running too – get Laser Hair Removals half price here.
Skin Rejuvenation
The clinic will use eTwo which is a therapy using radio frequency technology to transform skin and tighten pores dramatically. Without getting too technical, these radio frequencies change the skin's structure at a dermal level to reverse fine lines, tighten pores, heal acne scars and even out the skin tone.
Whole Body Cryotherapy
A totally new concept to some spa-goers, cryotherapy involes immersing the body in freezing temperatures. It has yielded amazing results for those suffering from inflammatory disorders and it can aid weight loss.
Micro-needling
A non-surgical alternative for youthful skin. What happens is 9 micro-needles work on the skin and act as a catalyst for new cell production. The length of the micro-needles can be customised for each client.
Cosmetic Injections
Choose from anti-wrinkle injections, dermal fillers and if you want lucious lips like Kylie Jenner, there will be lip enhancement fillers also. You will be in great hands with Dr. Pádraig Ó Ceallaigh carrying out these injectable treatments using his wealth of experience from specialist skin treatments and facial surgeries throughout the years.
LED Phototherapy
These treatments use LED light to increase the skin's blood flow, improve circulation of nutrients in the skin and stimulate collagen production.
As you can tell from the above, there isn't much you won't be able to get done in South William Clinic & Spa. They've got every base covered.
~Spa Membership~
The presigious spa will be offering various membership options which will entitle you to a host of treats every month at the spa.
Member or not, they're already taking bookings: call 015379222 or email info@southwilliamspa.com if anything here tickles your fancy.