Eminence Organics Firm Skin Acai Exfoliating Peel
By Blanca Arboli, May 29, 2019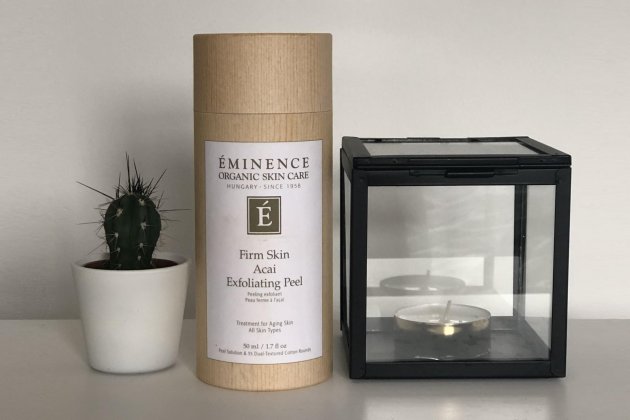 A facial peel is one of the fastest tracks to gaining a radiant complexion. Eminence Organics Acai Firm Skin Exfoliating Peel (€95) is an award winning at-home peel, a super handy treatment to include in your facial regimen or to quickly refresh your skin before a catch up with the girls.
The product comes with 35 cotton rounds for application on both normal to dry or mature skin types. As with all Eminence products you can expect natural and organic ingredients, and no animal testing. This peel solution, is packed with antioxidants sourced from acai berries, grapefruit and goji, and also includes lactic and glycolic acids.
Lactic acid is known to improve skin texture, which is a big reason to seek out exfoliating products containing lactic acid.
The said benefits of this peel are to visibly increase skin's firmness, restore its elasticity and reveal a smoother, softer, younger looking complexion. Well, I like the sound of that!
Key Ingredients
Acai Berry, Grapefruit, Lactic Acid, Goji, Noni Fruit, Sweet Pea.
My Experience
When this gem arrived at my desk, I could tell it was based on natural ingredients even before I opened it. The cute packaging reminded me of a little tree trunk.
Once opened, you see how considerate Eminence are. The cottons round are designed for 2 types of skin; one side is smoother (for sensitive skin) than the other one (better for a stronger exfoliation). I used the softer side!
Place just 2 dabs of the peel solution onto the cotton round. Then apply the pad around the skin in circular motions. Not forgetting the neck and decollete!
Right after using it, my skin felt fresh and clean. It was smooth and more radiant. I also could feel the increased sense of skin elasticity. On top of those benefits, your cleansers, moisturizers and hydrating serums are able to penetrate more deeply and do their jobs more effectively after using it.
Top marks from me!
Results
Visible signs of ageing are reduced
Skin is plumped and hydrated
Skin is left soft and noticeably smoother
Skin is firmed and revitalised
Skin is prepared to receive further treatments for increased benefits
We've written about Eminence products before but we can't get enough of them.
Visit www.eminence.ie to buy or for more information.