Easy-Peasy No Bake Chocolate & Peanut Butter Protein Bar
By Orla, May 13, 2014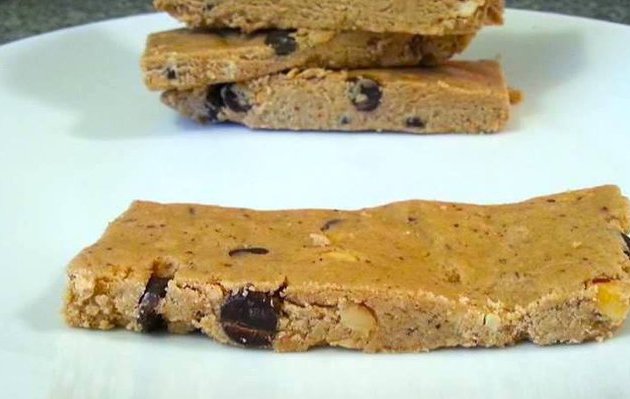 After having tried and tested it out, this recipe courtesy of MindBodyGreen is definitely a winner in our eyes. It's a perfect on-the-go snack and great for some post-workout fuel, not to mention it tastes delicious.
Not only is it packed with protein, it's also gluten free and vegan so it's super healthy. Because it has both peanut butter and chocolate, which by the way are a match made in heaven, it satisfies those naughty cravings but does none of the damage they usually bring.
What You'll Need:
3 cups of gluten-free rolled oats

1 cup protein powder (use a vanilla/chocolate flavoured variety)

1/4 tsp of sea salt

1/4 tsp of cinnamon

1 cup of peanut butter

1 cup maple syrup (honey would taste good either)

1/3 cup of dairy-free chocolate chips or raw cacao nibs (if you're not going for the vegan version, regular chocolate chips are perfect)

Possibly a dash of almond milk
How It's Done:
1. Blend the rolled oats into a flour-like consistency
2. Mix the oat flour, protein powder, sea salt and cinnamon together in a large bowl.
3. Add in the peanut butter and maple syrup and give it a good bit of elbow grease until it is fully combined.
4. If you find that the mixture is too thick or dry, add in a splash of almond milk.
5. Stir in the chocolate chips, making sure they are evenly dispersed.
6. Lastly, press the mixture into a lined baking tray (about 9×13) and use a rolling pin to smooth it out.
7. Pop the tray into the freezer for 10 minutes to harden the bars up. Remove and cut into bars, it should make about 20.
8. To store them, wrap them individually in cling film and keep them in an air-tight container. Or if you don't think you can make it through all 20 of them, they are a great little treat to keep in the freezer!