Easy & Delicious Gluten Free Cauliflower Pizza Base
By Orla, September 11, 2015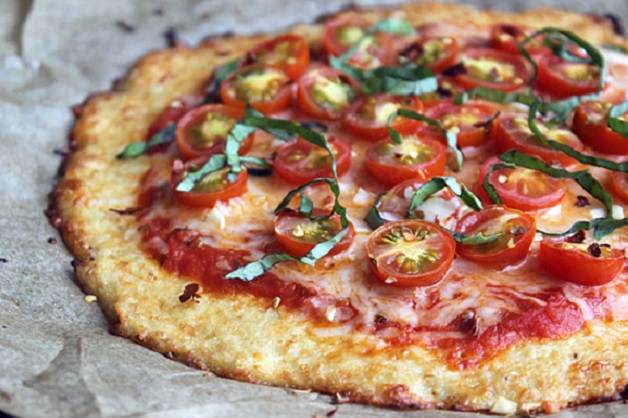 Image: Popsugar.com
This pizza recipe is a game-changer for coeliac and gluten-intolerant people. All of the delicious flavour, none of the guilt and more importantly, none of the gluten-laden dough.
What You'll Need
For the base:
2 cups(about half a large head) of cauliflower, grated
½ cup of grated mozzarella (low-fat if possible)
2 tablespoons of parmesan or padano cheese, grated
1 large egg
1 teaspoon of garlic, minced
Pinch of salt and ground black pepper
¼ cup of fresh parsley, chopped
Optional: 50g of ground almonds
For the sauce:
3/4 cup of passata
¼ cup of red wine
2 cloves of garlic, minced
Handful of fresh basil, chopped
Squirt of honey
Pinch of salt and pepper to taste
How It's Done
1. Preheat your oven to 230℃ or gas mark 8. Line your baking tray with parchment paper or a silicon non-stick mat.
2. Make the sauce first so it can simmer and develop while you prepare the rest of the pizza. In a heated pan, gently fry the garlic until lightly golden in some olive oil. Add in the passata and red wine and bring to the boil.
3. Bring the mixture down to a low heat. Add in the basil and a squirt of honey if it tastes quite sharp. Leave to simmer on a very low heat while you prepare the rest of the pizza.
4. Because the cauliflower is grated so finely, the easiest and quickest way to cook it is to microwave it. Place in a bowl and cover it with cling film. Microwave on a high heat for about 7 or 8 minutes or until it is nice and soft.
5. Remove your cauliflower from the microwave and allow it to cool.
6. In a separate bowl, whisk the egg and add in the grated mozzarella, parmesan or padano, parsley, garlic, salt and pepper. Mix thoroughly and combine this mixture with the cooled cauliflower.
7. Now is when you would also add in the ground almonds. Please note the mixture will be thicker and possibly drier as a result, but it will also have a touch of sweetness.
8. Empty the mixture onto parchment paper and shape into a circle. Place in the oven to bake for 10-15 minutes or until it is lightly browned.
9. Take your base out of the oven, top it with your tomato sauce and whatever other toppings tickle your fancy and cook for a further 10 minutes.
Keep any leftover tomato sauce and a make a delicious gluten-free pasta dish for dinner tomorrow. Bon apetit!