Dr. Hauschka
By Jessica, February 10, 2010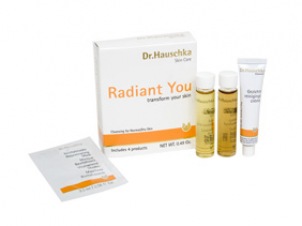 Many years ago, the chemist Dr. Rudolph Hauschka asked philosopher, Dr. Rudolph Steiner, 'what is life?'  His reply was to study rhythm as rhythm is the carrier of life. 
This conversation is said to be the reasoning behind Hauschka's subsequent research.  He found that by using the rhythms and polarities of nature he could create plant extracts that retained their living properties and remained stable without the use of artificial colours or alcohol.  The fundamental rhythm to the products became known as WALA: warmth, ash, light, ash. 
The Dr. Hauschka products and treatments focus on holistic philosophy.  They believe that beauty begins in the garden, and so they use a special agricultural process called Biodynamics.  This takes into account the cycles of the moon as well as the soil, plants, animals and people in the environment.  The aim is to create a self-sustaining eco-system as the therapeutic properties of the plants they harvest are the foundation of their skincare products. 
The Dr. Hauschka approach to product use is an unconventional one.  For instance, it is recommended that you skip night creams as night time is when your skin regenerates itself.  In applying creams at night they say you are interfering with this natural process, making the skin dependent on moisturisers.
The cleansing system relies on the 'press and roll' method, which uses the brand notion of rhythm but also avoids over-scrubbing the skin's own protective layer.  Also to be found are products for the body, bath, men and a line of light cosmetics.
Dr. Hauschka spa treatments use rhythmic touches to support circulation, strengthen the immune system and stimulate lymph flow as well as providing you with a relaxing experience.  This involves the use of masks, compresses, herbal steams, footbaths and massages.
You can find Dr. Hauschka treatments in Rathmullen House, Co. Donegal; Coolbawn Quay Spa, Tipperary; Kachina Natural Spa, Co. Mayo; and The Natural Healing Rooms, Co. Cork to name a few.  Products are available from health stores and chemists nationwide.