Dr. Bronner
By Jessica, January 25, 2011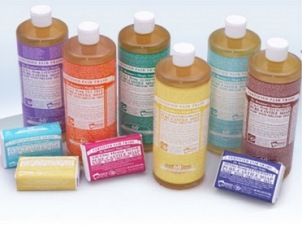 Dr. Bronner soaps originate as far back as 1858, with a small Jewish family business in Germany. A third generation soap-maker, Emanuel Bronner decided to emigrate to America in 1929 where he continued to formulate liquid and bar soaps in his very own eccentric way.
In the 1940s, Bronner awarded himself the title of 'Dr.' despite not having studied for a doctorate degree. Following on from the death of his parents in the Holocaust, he began to enthusiastically promote unity across religious and ethnic divides, using his home-made soaps as a platform. 
Bronner's mission was to convince the American leaders and public of his message for world peace, leaving his children in foster care in the process. In 1945, he was committed to an insane asylum where he was administered electric shock treatments. He escaped, and three years later he established Dr. Bronner's Magic Soaps as a company.
Even today, Dr. Bronner Liquid Soaps are completely covered in diverse quotes from religious and other texts. The products became particularly popular during the counter-culture explosion of the 60s and 70s because of their simple, nature-friendly composition and their message of peace.
In the following years, Dr. Bronner amassed a cult following because of the old-fashioned quality that had become synonymous with the brand. The range is fair trade and organic certified, famous for its soaps, lip balms, hair products, lotions, shave gels, snacks, balms and baby products.
The liquid soaps in particular are unique for their claims for use. Packaging on the soaps directs that the product be used to clean skin, hair, upholstery, clothing, cars and animals, to name just a few. They are composed of jojoba, hemp and extra virgin olive oils blended with pure essential oils, keeping the products completely natural.
In 2009, Dr Bronner was chosen as one of Natural News readers' top five Natural Skincare brands. The Castile Liquid Soap was also awarded an Allure's Editor's Choice Award. Products are available from Nourish, Health Matters, Down to Earth and Quay Co-Op Cork health stores, as well as from www.evergreen.ie and www.safiaorganics.ie