DIY Blueberry & Aloe Face Mask
By Orla, July 17, 2013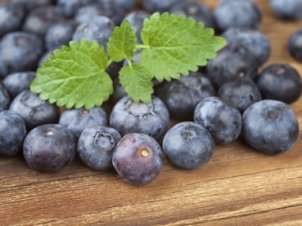 Unfortunately we don't always have time to head out to the beauticians or a spa, but that doesn't mean you can't do a bit of DIY pampering.
Blueberries are super berries and are known to have the highest level of antioxidants – and we all know how amazing antioxidants are for your skin.
Blueberries are packed with vitamins and minerals that prevent aging and help healing of the skin, which in turn reduces scarring and helps with blotches.
Aloe is also very beneficial for your skin. It soothes and moisturises your skin which helps fight the signs of aging. But it can also have a positive effect on acne, and is said to reduce the visibility of stretch marks.
This cold blueberry and aloe mask is packed with nutrients that will help your skin thrive and it's extremely refreshing on those hot, clammy summer days.
Your skin will feel incredibly soft and refreshed, not to mention the healthy glow you will be showing off.
What you'll need:
¼ cup of cold Organic Ripe Blueberries
2 tablespoons of Aloe Vera Gel
What you'll do:
Mix ingredients together in a small bowl.
Apply a generous amount of the mixture to your skin; leave on for 20 minutes.
Rinse with slightly warm water.