Delicious Roast Garlic, Rosemary & Pumpkin Hummus
By Orla, October 23, 2015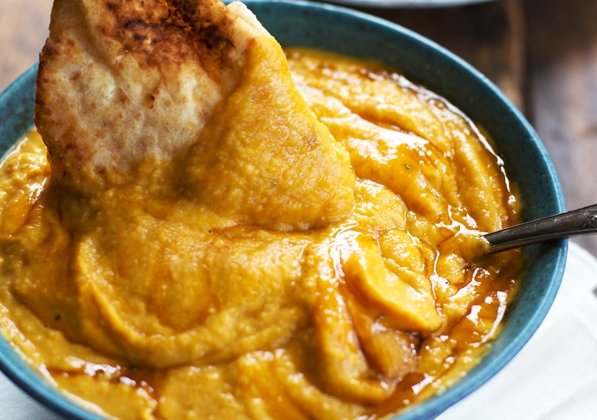 Image Source: pinchofyum.com
We saw this recipe on pinchofyum.com and just had to share. How delicious does this hummus look and sound?
We couldn't think of a better way to use the leftovers from pumpkin-carving. We modified the recipe slightly while making it ourselves, but we can assure you – the flavour was all there. Here's how you can make this tasty hummus for yourself.
What You'll Need
2 cloves garlic
1 tablespoon of olive oil
2 tablespoons of water
400g of chickpeas, drained and rinsed
160g of pumpkin puree
1 tablespoon of honey
½ teaspoon finely minced fresh rosemary
Pinch of salt and pepper
How It's Done
1. Chop your pumpkin into medium sized pieces and boil for about 30 minutes, or until it's completely tender. We recommend boiling all of your pumpkin leftovers, this way you can use 160g of pumpkin puree for this recipe and freeze the rest for a rainy day?
2. Our absolute favourite way to roast garlic cloves is to leave them whole. Since we only need two cloves, break them off the main bulb of cloves and chop the very top off them.
3. Preheat the oven to 200 degrees celsius.
4. Place the cloves in a baking tray cut side up(muffin tins work well) and drizzle the oil over them. Cover the two cloves in a bit of tin foil and roast for about 25 minutes.
5. Puree the chickpeas, water, boiled pumpkin and honey in a blender until smooth. Add more oil or water as needed. Stir in the finely minced rosemary to the blended mixture.
6. Once your garlic cloves have finished roasting, they should be a soft mushy puree of garlic. Scrape out all this mushy goodness and thoroughly mix through the blended mixture.
7. Add salt and pepper to taste and voila, there you have it!
How To Serve
We would recommend either dunking some original tortilla chips into the hummus and indulging or smearing it on some lightly toasted wheaten bread for a healthier option!