Delicious Pumpkin Recipes For A Tasty Halloween Treat
By Orla, October 24, 2013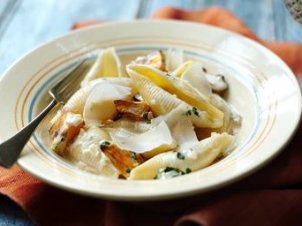 With Halloween just round the corner, you're sure to have plenty of spooky decorations and carved pumpkins around the house. But this Halloween, why not save your pumpkin leftovers and mess and use it to make a tasty traditional Halloween meal for the family?
Most people make a pumpkin soup, so we decided to mix it up a bit and give you a few new, exciting recipes that you probably haven't tried before.
Creamy Pumpkin Pasta With Rosemary via BBC Food Recipes
Ingredients:
340g or 12oz of pasta spirals/shells/conchiglie/fusilli
1 small pumpkin
2 sprigs of fresh rosemary
1 clove of garlic
1 shallot
140ml of double cream (regular cream is fine if you don't want to be too naughty)
1 tsp of Dijon mustard
1 tsp of freshly chopped flatleaf parsley
30-55g butter
150ml of white wine
The juice of half a lemon
Grated parmesan to sprinkle 
How it's done: 
Preheat the oven 190C/Gas Mark 5.
Peel and de-seed the pumpkin. Dice into 2.5cm and place onto an ovenproof sheet.
Chop the rosemary and sprinkle over the pumpkin. Season and drizzle with olive oil.
Place in the oven and cook for 45 minutes.
Cook the pasta in plenty of salted boiling water as per instructions.
Chop the garlic and shallot, gently pan-fry in the butter for about 1 minute.
Add the mustard and wine, bring to the boil. Simmer for 2-3 minutes.
Add the lemon juice, salt and pepper, cream and finally the parsley.
Drain the pasta and remove the pumpkin from the oven. Pop the pasta into a bowl.
Pour over the sauce and mix together. Check seasoning. Serve in a bowl with the parmesan cheese over the top.
And for dessert, why not try these delicious pumpkin glazed cookies via Pumpkin Recipes? You could even give them out to trick-or-treaters….
Ingredients:
For the cookies:
1 cup of butter
1 cup of sugar
1 cup of pureed cooked pumpkin
1 medium egg
2 cups of plain flour
1 tsp of baking powder
1 tsp of baking soda
1 tsp of cinnamon
1 tsp of vanilla essence
½ tsp of salt
For the icing:
1/2 cup of brown sugar
¼ cup of milk
3 tblsp of butter
1 cup of icing sugar
¾ tsp of vanilla essence
How it's done:
Preheat the oven to 180C/Gas Mark 4.
Cream the butter and sugar in a large bowl. Add the pureed cooked pumpkin and beated egg and mix well.
In a different bowl, sift together the rest of the dry ingredients. Add to the pumpkin mixture and blend well.
Shape the dough into 1 inch balls and flatten into cookie shapes. Place on a greased/lined baking tray and baked until golden brown, for about 11 minutes.
To make the icing, combine the brown sugar, milk and butter in a small saucepan and bring to the boil. Remove from the heat and whisk in the icing sugar and vanilla until smooth.
When the cookies have slightly cooled, generously pour the icing over them and allow them to cool before serving (if you can wait that long).