Delicious and Healthy Pasta Salad with Kale and Basil
By Orla, August 14, 2014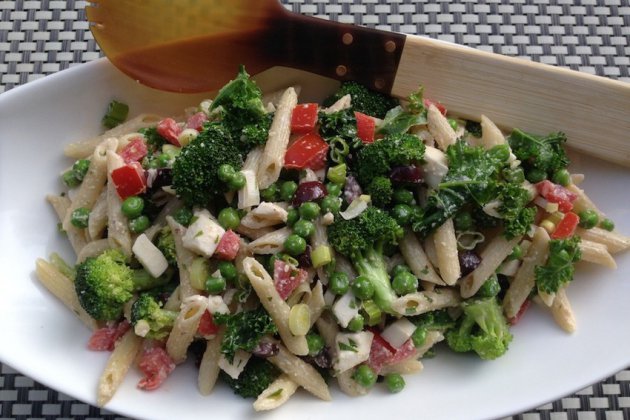 Kale is all the rage these days due it's wonderful cholesterol lowering tendencies. It's one of the healthiest vegetables out there because it aids digestion, decreases the risk of cancer, and boasts detoxifying and anti-inflammatory properties and plenty of antioxidants.
But how do you incorporate it into your diet? There are loads of easy kale recipes to choose from including kale chips, kale salad, kale soup and more. But we've decided to share this delicious pasta salad recipe from MindBodyGreen.com, it's one of those recipes that's so tasty that you forget it's super healthy. This recipe serves about 6 portions.
What You'll Need:
1 lb. of penne pasta

1 cup of raw cashews, filled to just over the top with water

1 cup of kale broken into small pieces (core removed)

1/2 cup of broccoli florets

1/2 cup  of defrosted baby peas

1/2 cup of fresh mozzarella, medium diced

1/2 cup  of fresh tomatoes, medium diced

1/4 cup of olives, pitted and quartered

1/4 cup of fresh scallions, slivered

1/4 cup of fresh basil, finely chopped

1 medium garlic clove, finely chopped

2 tablespoons of extra virgin olive oil

Salt and pepper to taste
How It's Done:
1. Cook the pasta until it is al dente (firm but with a bite)
2. Cover the raw cashews with water and add to a food processor. Blend until the mixture is fully puréed, creamy and smooth. Gradually add water if you feel it is too thick. Season with salt and pepper.
3. Combine the creamy cashew mixture to the pasta, add the oil and sauté over a medium heat in a medium saucepan.
4. Add the garlic and cook for about 15 seconds or just until it begins to colour. Be careful not to burn the garlic.
5. Add the broccoli, kale and peas to the saucepan and cook until the kale begins to wilt slightly, this should take approximately 1 minute. Season to taste, stir and remove from the heat.
6. Empty the contents into a large salad bowl, add the remaining ingredients and stir it all together. If it needs more moisture, drizzle some olive oil over it. Refrigerate the pasta salad and you're all set.