Christmas Leftover Soup Recipe
By Jessica, December 26, 2010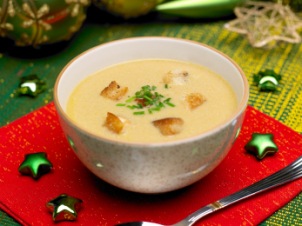 If you find yourself with lots of leftover turkey, ham and veg after Christmas this tasty soup recipe will help you to use it up without having to overload on turkey sandwiches.
Ingredients:
1 tablespoon butter
1 medium onion, chopped
750ml turkey stock or chicken broth
1 medium clove garlic, minced
500ml cups whipping cream or heavy cream
1/8 teaspoon ground black or white pepper
1/8 teaspoon ground nutmeg
Shredded Cheddar cheese to taste
Chopped blanched broccoli
Leftover cooked turkey chopped into pieces
Leftover cooked ham chopped into pieces
Directions
Melt the butter over a medium heat and sauté the onion until it's soft.
Add the stock and garlic.
Stir in the cream and seasonings.
Heat the soup for 10 minutes, but don't boil it.
Add the cheese, broccoli, turkey and ham.
Keep stirring and heating until the cheese melts and serve immediately.