Choosing a Spa for your Hen Party
By Jessica, February 21, 2011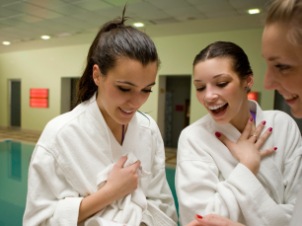 Spas are the new destination of choice when it comes to hen parties, and with all those engagements over Christmas and Valentine's, now is a good time to start considering what you might want from a Hen Party Spa  Package.
There are several essential steps to choosing the right spa for your hen party. First and foremost, check that the spa in question accepts hen parties in the first place – many spas now have a no-hens policy so other guests won't be disturbed. Avoid disappointment and call before you book if you're not sure.
After this, the spa you choose should depend on the kind of weekend you are planning. Whether an indulgent luxury break or a fun-filled weekend of spa treatments and partying, the following are some of the features to take into account to strike the perfect balance.
Location
This will depend on the kind of hen party you are planning. Spas in the larger cities are a great option for fun beauty treatments before a night out on the town while those in more remote locations are perfect for secluded girly weekends of pure pampering and catching up. Consider how much time you want to spend on spa treatments alone and if proximity to a lively town is important to your weekend.
Treatments
Think about what kind of spa treatments your group will enjoy and benefit from most. In the run up to the wedding itself the hen may appreciate a spa that offers make-up classes, manicures, pedicures, tanning and waxing treatments to help her prepare. Further in advance, the stresses and strains of planning will no doubt be taking their toll so opt for spas with relaxing massage and pampering treatments.
Facilities
Most destination spas have some form of relaxation room or suite to finish up a day's treatments in so it may be worth checking if you can book it out for your group. Some spas will also offer group treatments in designated rooms so you're not all separated for the day, and decide if you would like a hot tub, sauna or pool where you can all spend time together. You might also consider if anyone in your group has particular requirements – such as pregnancy friendly treatments or vegetarian options in the restaurant. Think about who is going and make sure everyone will be catered for.
Alcohol
Some spas offer bubbly and cocktails for special occasions while others will have a more health focused approach. Decide what kind of weekend suits your hen best – a pre-wedding detox at a health spa or a few drinks before a night out on the town – and choose your spa accordingly. Check ahead and see what their policy is if you're not sure.
Activities
If you don't want to spend the entire weekend in the spa then research the other activities on offer. Spas in larger hotels sometimes organise movie nights for group bookings or host the always popular Ann Summers parties. For more active hens, they will usually be more than happy to arrange tours, water sports, mountain climbing or whatever else the locality has to offer. Think about how you want to pass the weekend before you go, it's the perfect way to add in some surprise fun for your hen.