Can This Treatment Really Destroy Your Fat?
By Therese, November 17, 2017
Who wouldn't want this? A treatment that destroys up to 40% of your fat…without exercise. You know the saying: when something appears to be too good to be true, it is. Until now. Adrienne Stewart, a salon owner who does not come from a beauty background approaches all of these leaps in the beauty industry with a sceptical eye. Is it just a fad? Or will it really deliver results for her clients?
Sitting on the beach on holiday last year Adrienne thought there must be something to help us skip a few steps to beach body bliss that didn't involve the gym or a large dose of misery. And that's when she discovered 3D Lipo fat removal treatments.
At Rainforest in Enniskerry, She offers treatments that they have tried-and- tested rigorously
and that they know work. Who has the time or patience these days for treatments that simply might make a difference? Understandably, we all want real & visible results. 3D Lipo has taken Great Britain by storm with over 700 UK clinics offering the treatments with a huge celebrity following.
Adrienne sampled the 3D Lipo Fat Melting treatments and almost couldn't believing the results it gave her.  Rainforest Enniskerry is now proudly the only provider of 3D Lipo treatments in Dublin or Wicklow. Now it's easier than ever before for us to get rid of love handles; post-pregnancy bellies; muffin tops; bingo wings comfortably; easily and safely.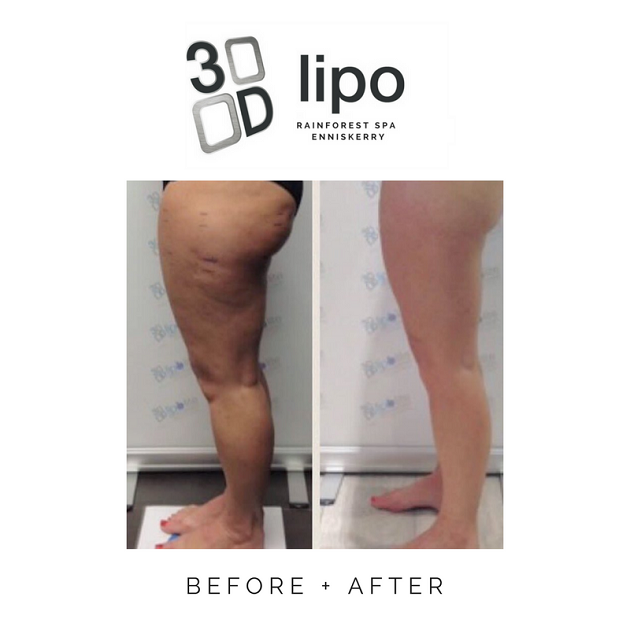 What is 3D Lipo?
3D Lipo is the award-winning three-dimensional approach to body contouring offering fat loss; skin tightening and cellulite elimination. Nothing else offers such a complete and effective solution and a real alternative to surgical liposuction. No needles; no pain; no down-time and your result is lost inches; cellulite erased; stretch marks reduced and skin is tightened. Too good to be true, right?
How does it work?
Unlike other lipo systems that use Diode Laser (I-Lipo; Strawberry Lipo & Laser Lipo), the 3D
technology completely destroys (rather than simply emptying) the fat cells for your body to excrete naturally through the lymphatic system; liver and kidneys. There are two main fat removal approaches depending on your problem areas. Cryolipolysis is known as 'Fat Freezing' which cools a pocket of fat to -6C and destroys it. 40% of the treated fat is destroyed in this once-off treatment.
Ultrasound Cavitation heats and ruptures your fat cells turning them to liquid for your body to excrete as waste. Cavitation is best for a larger area such as tummy or thighs; gives instant inch loss and best results are seen over a course of 8 treatments.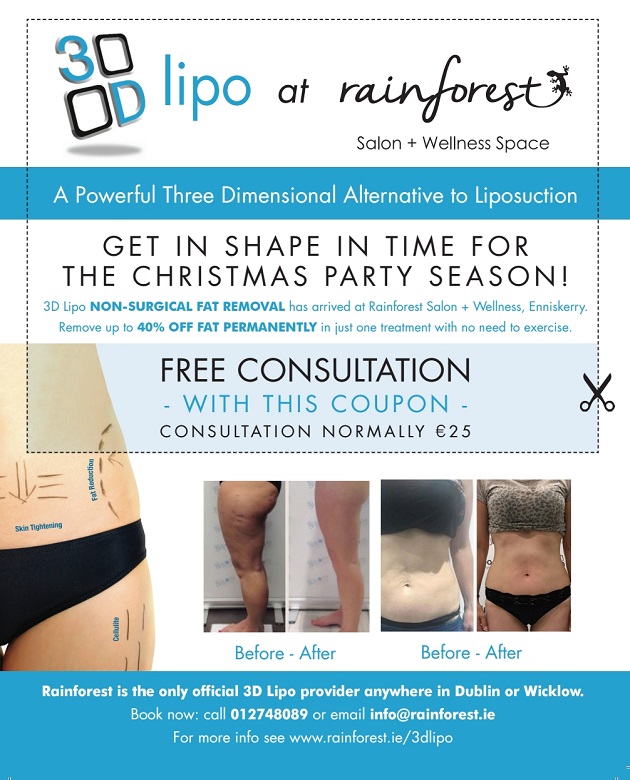 How much does it cost?
A once-off Fat Freezing session is €200. A Fat Melting session is €150 or €875 for a course of 8. You
can book your consultation at Rainforest Enniskerry now at www.rainforest.ie/3dlipo or call
012748080. You can also purchase a Spas.ie Voucher for yourself or a friend to put towards your treatment.