CACI Amino Peptide Cream
By Jessica, September 21, 2011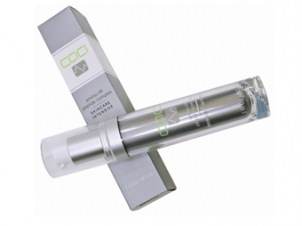 CACI International is predominantly a line of facial treatment systems which provide a non-surgical solution for blitzing the signs of ageing. With fans including Lisa Snowden, Michelle Collins, Coleen Rooney and, erm, Dale Winton and Cliff Richard, the brand has expanded into products for use at home with their Peptide Complex.
CACI Amino-Lift Peptide Complex
Complex indeed – the product of this long-winded name has been hailed as the latest 'botox in a bottle' to hit skincare stands. The technology behind it all consists of a tongue-twisting list of ingredients designed to reduce expression lines and wrinkles while lifting and defining facial contours.
While these kinds of claims usually serve nothing more than to fuel skepticism on my part, I actually really liked this cream. Directions are to dispense a small amount and massage into the skin, but the whole lot had disappeared before I could complete so much as one small circular motion. My skin absolutely guzzled this up and was left feeling nicely hydrated but still quite matte.
I had expected a little sensitivity, what with all the multi-syllabic chemicals involved, but instead there was just a comfortable feeling of firming and tightening without any dryness. More a serum than anything else, this has become one of those products that hadn't seemed necessary before trying it, but was missed once I forgot to use it.
Do I look like I've had a month's worth of botox at the end of the prescribed 28 days? Not really, I haven't relinquished control of my facial muscles, but my skin does look and feel better. Also nice about this product is that it slots nicely into a skincare regime, giving a little extra nourishing and firming without affecting the results of the other products. Not all that bad for €57 from spas and salons nationwide.