Botanica
By Jessica, January 17, 2011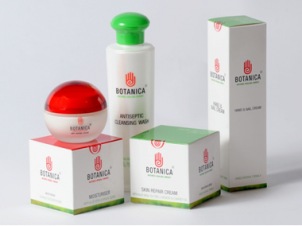 Botanica is an Irish natural skincare range produced in Co. Down. It aims to treat skin conditions such as eczema and psoriasis, believing that nature holds the answer to all skin problems.
Sean Cooney, the founder the company, is a trained horse whisperer and began his career making products for treating skin conditions in animals. The leap to products for human skin came about when he identified a niche in the market for completely natural herbal products to treat severe skin conditions. Today the range uniquely includes products for both people and animals.
Using oils such as aloe vera, tea tree, comfrey and lavender, the range of products is quite small. On offer is a moisturiser, an anti-aging cream, a skin repair cream, hand & nail cream, herbal skin cream and an antiseptic wash.
While a limited number of products are on offer, each aims to be effective when treating skin disorders as opposed to being your typical cleanser or moisturiser. The creams also claim to promote cell growth and improve skin elasticity using unique herbal combinations.
Because the Botanica products are natural, one of their key benefits is that they can be applied to large areas of affected skin as often as desired. For many, this provides a welcome alternative to other creams on the market which treat similar conditions using steroids, which can be harmful in large amounts.
Botanica products are available through www.botanicabeauty.com and in selected pharmacies nationwide.