Body Wrap
By Jessica, January 19, 2009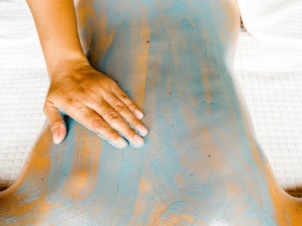 A body wrap is a natural way to enhance your body by improving the texture and appearance of the skin. By helping to rid the body of excess fluids and toxins, body wraps are believed to encourage body detoxification, boost the lymphatic system and metabolism, tighten and soften the skin and lead to temporary inch loss on the body.
A body wrap will often begin with a body scrub to exfoliate and detoxify the skin. Then the body will be covered with a detoxifying organic material (body mask) such as algae, seaweed mud or clay to stimulate the metabolism and help to rid the body of toxins. The body is then wrapped in elastic cloths for 20 minutes to keep the body warm. After the body mask is rinsed off, a rich lotion will be applied to hydrate and soften skin.
A body wrap is a natural and deeply relaxing treatment that will help to decrease stress and lower blood pressure. Skin will feel soft after the treatment and the appearance of fine lines will be reduced. Detoxification encouraged by body wraps has a long lasting effect on health and wellbeing. Toxins and body fluids do eventually return however, so regular body wraps may provide better long-term benefits.
There are a number of body wraps available that can help to improve the appearance of cellulite or stretch marks, eliminate toxins, cleanse the skin and tighten loose tissue on the body. People with rheumatism and arthritis may also benefit from the magnesium and salts present in body wrap solutions that help to ease muscle pain.