Body Scrubs or Body Polishes
By Jessica, April 1, 2008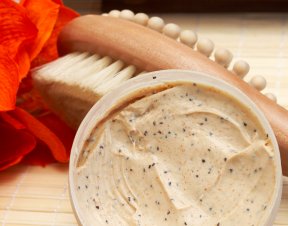 Or do you really even need to differentiate one from the other?
If you're confused about the difference between a body polish and a body scrub, you're not alone. They can indeed be mind-boggling for a spa newbie. Now what about the difference between a salt glow and a salt scrub? How about body cream, body butter and body parfait? Dizzy yet?
No matter how yummy those names are, unfortunately, those are not edible spa products but they can nourish the skin.
Do you want to know the real score behind these confusing names of spa products? It's all simply in the name of branding. Yes, they're all just made up to cater to spa goers who would better appreciate lovely sounding product names such as body butter or sea salt scrub than simple lotion or cream.
But to settle the difference between scrubs and polishes:
Body scrubs, polishes, salts, sugars or shells are used for exfoliating dead skin cells.
Body butter, body parfait and body creams act as emollients or skin moisturizers
They all promise more supple skin for you to be proud of.