Biodroga
By Jessica, February 10, 2010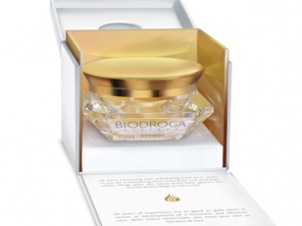 Biodroga carries on the therapeutic traditions of its home town, Baden-Baden, Germany, which is famous for its thermal springs.  Their products' basis in tried and tested biological ingredients, combined with those derived through cutting edge bioengineering, create the unique Biodroga experience.
Whether your skin is problematic, dry, oxygen-deprived, stressed, demanding or you simply want to retain a youthful look and combat signs of ageing, Biodroga has a formula specifically for your skin type. 
The most recent addition to their range is the Golden Caviar Line, a selection of four products containing caviar extract aimed at activating microcirculation and skin cell metabolism.  This, they say, has the effect of softening lines and wrinkles and preventing premature ageing.
Another somewhat unusual ingredient for a cosmetic product can be found in the Gold Selection.  It contains exactly what it says on the extravagant tin – particles of gold.  Released to celebrate Biodroga's 50 years on the market, this luxurious moisturiser will set you back over €100 ($150).
Also to be found are a men's line, Spa Sensation and Aquamarine Formula for those who want to bring the spa experience to the home.
Biodroga products are exported from Baden-Baden to over 40 countries around the world.  Affiliated spas can be found in destinations such as Las Vegas, Hawaii, Shanghai and the Fiji Islands.
Spa treatments vary from clarifying and purifying facials to the 150 minute long Ayus Lomi.  This entails a personalised Hawaiian full-body massage combined with ayuverdic treatment. 
In Ireland, Biodroga treatments are available in Rejuvenate, Dublin 2; Oceo Spa at Seafield Golf & Spa Hotel, Wexford; Listowel Therapy Centre and Aghadoe Heights Hotel & Spa, Killarney to name a few.