The Biggest Spa Trends in Ireland for 2016
By Orla, January 22, 2016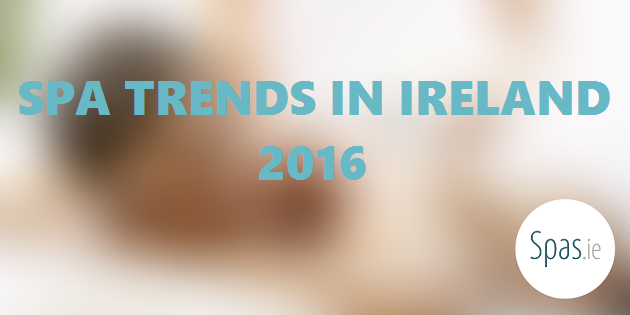 With spa treatments now "more accessible than ever,"according to Lynne McNees, president of the International Spa Association, we are becoming more and more specific about what we want from spas.
After looking at all the different spa trends predicted by SpaFinder Wellness, americanspa.com, skininc.com, marketwatch.com and the International Spa Association, here's what we reckon are set to be the biggest spa trends in Ireland over the coming year.
1. Personalized Spa Treatments
With the vast array of customised facials and skin analysis techniques available, it's no surprise that we have come to expect the option of tailoring our treatments to exactly what our skin and body needs at that exact moment in time.
We love the idea of our spa therapist creating a signature blend of oils, herbs and ingredients that is sure to give us personally, the boost we need.
2. Environment Friendly Products
Many Irish spas already adopt a holistic, natural-first approach to their therapies and products but after the President Obama has officially banned the use of microbeads in skincare products in America, we suspect that the rest of the world will soon follow suit.
This opens the door for lots of amazing all-natural spa brands to show us why high-quality, environment friendly skincare products are better than drug store, micro-bead laden products.
3. Express Treatments
A trip to the spa used to be seen as a total luxury and it still is, however, many spas now have the option of express treatments for those who need a bit of luxury and pampering but are short for time.
You see it everywhere – express Voya facials, The Speed Spa at The Salon at Shelbourne and all types of express 30 minute treatments. Spas also tend to open earlier in the morning and later in the evening to accommodate everyone's busy schedules – winning!
4. Spa Bookings on Demand
More and more customers want to browse and book their spa and salon appointments online from their mobile. We've seen it here on Spas.ie with almost 60% of our customers browsing spa packages and  spa deals on their mobile devices.
Expect to see more apps in the app store making your spa experiences possible with just the click of a button.
5. Spa Treatments for Men
As awareness about health and wellness continues to grow among people of all ages and genders in Ireland, we have seen a lot of spas design spa treatments specifically for men.
Spas of all types such as Angsana Spa at The Brehon Hotel in Kerry and The Residence Day Spa in Kildare have a dedicated treatment section for men in their spa brochures.
Speaking to Professional Spa & Wellness, The Spa at Galgorm Resort confirmed that it even has plans to create a male only treatment zone.
6. Workplace Wellness
Promoting wellness in the workplace is a bit of no-brainer – ensure your staff are physically and emotionally well and they're bound to perform better on every level.
As it stands, it doesn't seem to be a huge trend in Ireland but we think corporate wellness reward schemes and programmes is set to really blossom and flourish in 2016.
7. Adrenaline Rush Meets Intense Relaxation
SpaFinder Wellness have predicted this trend and it's definitely something we could get behind. The idea is to first experience an adrenaline rush from exciting sports activities such as surfing or ziplining which relieves the mind and body of stress, followed by a deeply relaxing experience to capitalize on the de-stressing cocktail of chemicals that the adrenaline rush created. We're guessing somewhere like Delphi Adventure Resort would be a great place to put this trend to the test. It looks like it's set to be a great year for spa-lovers and spa practitioners alike!