Benefits of Hot Yoga
By Jessica, September 22, 2010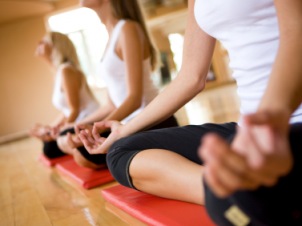 Bikram Yoga, or hot yoga as it is often called is a system of yoga derived from traditional yoga techniques. Classes are approximately 90 minutes long and take place in rooms heated to 105°F.During the class a series of 26 postures and 2 breathing techniques are practiced twice.
Hot yoga has all regular the benefits of traditional yoga but the heated studios add to the intensity of the workout. The heat allows muscles to stretch more easily which makes the movements easier. Because of the increased flexibility there is less chance of pulling of tearing muscles. Many have even reported it relieved back pain and arthritis.
Hot yoga is popular among men and women because of the proven benefits for building upper body strength, losing weight and increasing flexibility. The heat can also make the body burn calories faster and shed toxins.
Hot yoga is becoming increasingly popular in Ireland where the long cold winter months and unseasonable rain mean it can be difficult to get motivated to go for a walk or a run. Going to an indoor heated yoga studio seems like less of a chore.
Hoy yoga was developed by Bikram Choudhury. Born and educated in Calcutta, Choudhury began practicing Hatha yoga at the age of three. By age five, he began studying with Bishnu Ghosh and went on to become the youngest ever National Yoga Champion of India in his teens, a title which he held for three consecutive years. Later he pursued a career as a marathon runner. Choudhury competed in Olympic style weight lifting, but an accident in which he crushed his knees left him severely crippled. 
In 1965 he earned a diploma in yoga training from Ghosh's College of Physical Education and the Yoga Cure Institute. He then began perfecting his 26-pose style of yoga with input from Western doctors and scientists.
In 1972 he opened his first US yoga school in the in San Francisco. At the invitation of President Richard Nixon he traveled to the US where his main school resides near Hollywood. He now lives in Beverly Hills with his wife Rajashree and their two children.
Advice for Hot Yoga Beginners
Arrive at least 15 minutes before the class is due to start.
Mobile phones are a big no-no in the studio.
Don't eat within 2-3 hours before the class.
It's more hygienic to bring your own mat.
Let the teacher know if you have any injuries or if you are pregnant.
Drink at least 2 liters of water within 12 hours before class.
Wear moisture wicking fabrics or clothes that allow you to move freely.