Benefit Cosmetics
By Jessica, April 23, 2013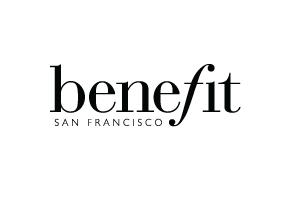 Benefit is a quirky make-up and skincare brand known for its humorous product names and high-quality results.
Established by twin sisters from Indiana, the idea for the business came about after the two spent years working as models and make-up artists. They decided to set up a make-up boutique in San Francisco in 1976.
The brand gained notoriety after it emerged the following year that strippers were using their Benetint cheek tint as a nipple stain. A catalogue and expansion to New York followed, and the brand arrived this side of the Atlantic in the late 1990s.
Predominantly a make-up brand, Benefit has more recently ventured into the realm of skincare, offering washes, exfoliators, toners, moisturisers, eye creams, make-up removers and more.
Their skincare products are in keeping with Benefit's mission statement that "laughter is the best cosmetic…so grin and wear it!" All products currently in the line come in cleanly packaged glass bottles, topped off with a mock-cork stopper.
Benefit Cosmetics products are available from Arnotts in Dublin, and Brown Thomas and Debenhams department stores throughout Ireland.