Bearna Natural Care
By Jessica, February 19, 2013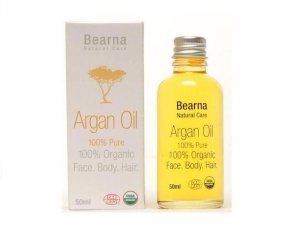 Bearna Natural Care is an Irish skincare brand specialising in Argan Oil. Based in Galway, they use organic and fairtrade argan from Morocco as their hero ingredient.
Argan is said to be one of the rarest oils in the world, found in the kernels of the argan tree. It is best used in its raw form, and Bearna Natural Care does not add or remove anything from the oil before bottling it.
The brand is certified by Ecocert and USDA Organic, and they guarantee that the workers and communities from which they source the oil benefit directly from the profits.
The oil can be used to treat dry skin, blemishes, signs of ageing and even stretch marks. It is safe for use during pregnancy and is completely free from any additives or harmful chemicals.
It can also be used on hair as a conditioner in the shower, a treatment on split ends or as a styling product for frizz-prone, flyaway hair.
Available from bearnanaturalcare.com, the oil costs €16.95 for 50ml with €3 delivery within Ireland.