Balinese Massage
By Orla, April 16, 2014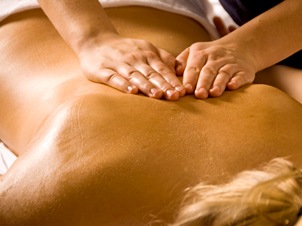 Balinese massage stems from many different cultures including Chinese, Indian and Asian to name a few.
The main aim of Balinese massage is to deliver a relaxed state of mind and a sense of well being by stimulating the flow of oxygen, blood and energy or "qi" around the body.
This type of massage is a full body, deep-tissue, holistic treatment that uses many different types of treatments such as acupressure, reflexology and aromatherapy to achieve this state of wellbeing and relaxation.
It is designed to work almost every muscle in the body which lends to the release of deeply tense and knotted muscles.
The therapist will use a mixture of skin rolling, kneading, stroking, pressure point stimulation, palm pressing, essential oils and their aromas to encourage the flow of energy through the body.
Traditionally Balinese massage is not a delicate style of massage, with it's effects being felt deep in the muscles. However some spas may carry out this massage in a more gentle manner to focus on the relaxation aspect.
Balinese massage has been known to boost those who are feeling a bit low and to help those suffering with migraines, physical pain from knotted muscles, sleeping disorders and breathing disorders.
What To Expect From A Balinese Massage
During a typical Balinese massage, you will be asked to lie on a massage couch or a massage table with minimal clothing or fully unclothed.
You will experience deep pressure and the use of essential oils will both soothe your mind and help the massage strokes become more fluid. It will usually last about one hour.
Some of our featured spas offering Balinese massages and treatments include The Spa at The Four Seasons Hotel, Vedas Day Salon, Skincare Clinic & Day Spa, Rain Spa & Wellness Clinic and many more.