Avène Extremely Gentle Cleanser
By Jessica, February 17, 2011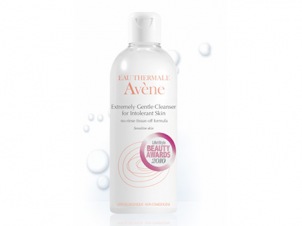 Avène is the leading dermo-cosmetic brand in France and has only very recently come to our shores. Their products incorporate mineral-rich thermal spring waters to care for sensitive and intolerant skin types, and aim to treat dehydrated, inflamed and ageing skin in the most gentle way possible.
Avène Extremely Gentle Cleanser for Intolerant Skin
The Extremely Gentle Cleanser is free from artificial colours and fragrances, oils, soaps and parabens, the idea being 'minimal ingredients for maximum tolerance'. The product is said to be suitable for skin which suffers allergic reactions to standard cosmetic ingredients, general burning or itching, and skin which has recently under gone microdermabrasion or chemical peels.
Unlike a great many products claiming to be suitable for extremely sensitive skin, this cleanser did not disappoint (or irritate) in the slightest. The texture of the product is very like that of a liquid soap, going on extremely light and smooth. The scent is barely detectable, again a little like soap despite not containing any. Wiped off with a cotton pad, I was actually surprised with the amount of dirt it managed to remove from my skin – far more than my usual cleanser manages to muster up with the same amount of make-up on. I struggled a little with eye make-up but still managed, bearing in mind it isn't specifically an eye make-up remover.
The bottle claims a 'tissue-off, no-rinse formula' which struck me as probably being an odd translation from the original French packaging. However the stand-out feature of this product was actually the complete absence of any residue on my face after use, meaning you really could go without rinsing or washing your face afterwards if cleansing on the go. A really outstanding cleanser, gentle enough for the most easily irritated of skins.
Avène Extremely Gentle Cleanser was the recipient of a Lifestyle Beauty Award in 2010 and is available from Unicare and other selected pharmacies nationwide for €15 for 200ml.