A'kin Skincare
By Jessica, January 17, 2012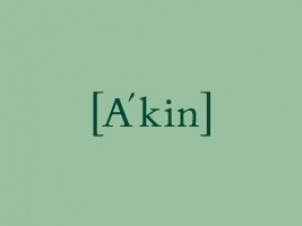 A'kin is an Australian skincare brand designed to restore skin to its natural beauty by using natural ingredients. Only the purest, organic botanicals are used in products and they are intended for use on even the most sensitive of skins.
The brand name comes from the English word 'akin', to reflect the fact that products work in a similar way to the skin itself. Each product is formulated to ensure suitability for allergy-prone skin types and to treat skins that tend to flare up when exposed to synthetic cosmetics.
A'kin products are fee from sulphates, petrochemicals, parabens, propylene glycol, silicones, phthalates, DEA, mineral oil and artificial colours and fragrances. The brand is also suitable for use by vegans and is free from both animal ingredients and animal testing.
Within the A'kin brand, you will also find Al'chemy, A'kin PureBaby and A'kin PureMAN. Al'chemy is the brand's hair care line, and is unfortunately only available in Australia at present, but you will find A'kin hair care products in Ireland. Along with this, expect cleansers, toners, moisturisers, exfoliants, masks, serums and eye creams.
Hand creams, body washes, body scrubs and moisturisers are also on offer, while the baby range consists of shampoo, moisturiser, skin balm, massage oil and a calming mist. A'kin products are available from Arnotts in Dublin and various pharmacies and health food stores nationwide.