Acupuncture
By Jessica, April 4, 2013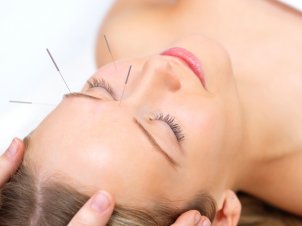 Acupuncture is an ancient alternative medicine that uses needles to stimulate key points in the body. It is said to treat a wide variety of ailments, and is suitable as a complementary therapy to traditional medicine and other treatments.
History
The practice of acupuncture dates back hundreds, possibly thousands of years, with its precise starting point being the subject of debate. It is, however, believed to have originated in China before spreading across much of Asia.
It was the 1970s before Acupuncture made an impact in the West, with the U.S being one of the first countries to begin offering the treatment. The practice gradually gained recognition in western medicine, and many healthcare plans now cover acupuncture treatments.
Theory & Benefits
The theory behind the treatment revolves around the idea of 'Qi', or a flow of energy within the body. When this flow becomes obstructed, we can suffer physical symptoms and even disease. But by releasing these blockages, we can return the body to health.
It can be used to treat chronic pain, migraines, nausea, stomach and bowel problems, stress, anxiety and a range of other issues. Many also turn to acupuncture for help with fertility problems, although experts disagree as to its true effectiveness in this area.
What Happens at an Acupuncture Session?
Acupuncture practitioners will generally examine the skin, tongue and pulse of the patient at the start of treatment, possibly also observing the breath. From this assessment, they will then choose which of the hundreds of 'acupoints' in the body need treatment.
The majority of needles are usually placed in the face and ears. Skilled practitioners are said to be able to insert the needles without causing pain, and any sting is usually confined to a brief pricking. However if you have a strong aversion to needles, acupressure may be a better alternative to try.
Acupuncture is available in French Beauty Day Spa in Dublin, Johnstown House Hotel & Spa in Meath, and a number of other spas throughout the country.