Açaí Berry Smoothie Recipe
By Jessica, June 7, 2011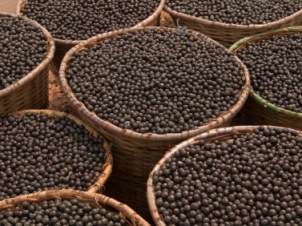 Açaí berries are powerful little fruits that taste somewhere between berry and chocolate.  They have more antioxidants than most other fruits in the world and have been classed as a superfood.  It can be difficult to get the berries fresh as they go off quite quickly after picking, but you may be able to get them online.  Otherwise you can buy them in freeze dried or juice form in health food shops, either is fine for this recipe.
Recipe:
1 cup of açaí juice or 1 portion of açaí powder
1 cup of frozen blueberries
1 cup of frozen raspberries
1 banana
½ cup of vanilla frozen yoghurt
Simply throw it all into a food processor and blend.  If the consistency is a little thick for your liking then chuck a few ice cubes in as well. You can also add a tablespoon of cocoa powder if you want to enhance the chocolate undertones of the açaí berries.