Our 4 Top Skincare Tips for Autumn
By Orla, September 2, 2016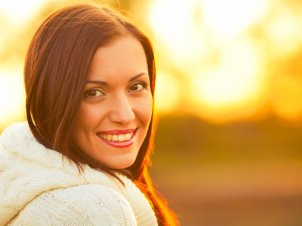 We're coming into autumn in the next two weeks and with a change in weather on the cards, it's time to switch up your skincare regime.
Autumn is actually a great time to prepare your skin for the forthcoming harsh conditions that winter brings. However it does still present some challenges.
Typical skin issues that people experience in autumn are dull and dry skin, usually as a result of increased exposure to the sun over the last few months combined with the arrival of sharp and piercing winds.
Here are a few tips to strengthen your skin for the months ahead whilst repairing any traces of damage the summer months left behind.
1. Exfoliate with Oil-Based Products
Rid the skin of flaky, dry patches by switching to an exfoliating product that has an oil base as it will both clear your pores out and inject some moisture into your skin.
A nice oil based facial exfoliator is the sweet almond oil-based Monoi Tiare Petal Exfoliant from ÓGRA and a fantastic oil-based body exfoliator is this argan oil-based Green Angel Sunrise Body Smoother we reviewed last year.
2. Up Your Moisturising Game
Switch to a moisturiser that contains highly hydrating ingredients like cocoa butter, jojoba oil and hyaluronic acid. But what's really the key for effective hydration is ensuring your skincare products have ingredients that facilitate absorption, such as Vitamin A (retinol), C and E.
Make sure you continue to apply a moisturiser with an SPF in the morning. Just because the sun isn't as obviously beating down on you doesn't meant that harmful UVA rays aren't penetrating the deepest layers of your skin.
Always apply a moisturiser before you go to sleep at night as this is when your skin has time to really work on repairing itself.
One other really important factor to consider when choosing a new moisturiser, in particular for the face, is your skin type. Always be mindful that your own personal skin issues might outweigh the need for extra hydration in the autumn.
3. Always Carry Hand Cream In Your Bag
When the weather starts to turn more bitter in autumn, your hands can become cracked and dry due to more exposure to cold winds and temperatures. Start moisturising your hands now to prevent this happening. They say the hands are a really telling sign of someone's true age, it's recommended to moisturise hands daily regardless but coming into the cold weather gives you even more of a reason.
Our favourite hand cream right now is the Elizabeth Arden Eight Hour Hand Cream but it is pricey at €30. A fantastic and affordable alternative is the La Roche-Posay Cicaplast Mains at €7.50.
4. Use Mildly Acidic Facial Toners
An acidic toner will help to rebalance the skin pH levels, meaning it will aid the right level of absorption from your moisturiser and other products. It will also help to exfoliate the skin, which may sound weird because toner is generally a light and clear fluid, but the acid will gently remove dead, flaky skin cells.
The right toner for your skin will also attract moisture from the air, aiding hydration even further.
The beneficial acids you should look out for in your facial toner include glycolic acid, salicylic acids and even lactic acid.
Our star toner product of the moment is the Pixi Glow Tonic which is suitable for all skin types and costs €23.50.