3 Easy DIY Eye Makeup Remover Recipes
By Orla, July 24, 2014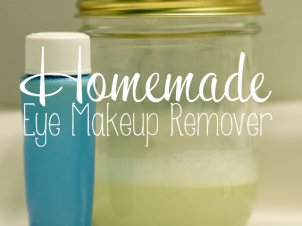 The skin around the eye area is extremely sensitive which explains why chemical-laden products very often irritate the eye area. Not only do cleansing products upset your skin, some of them still don't do a great job at budging the likes of jet-black mascara.
The following recipes are super-easy and really cheap to make and they're really skin friendly. On top of that, they make taking off your eye makeup easier than ever.
1. Vegetable Oil Based
Mix up 2 tablespoons each of olive oil, canola oil and castor oil and you're done. The vegetable oils blend together to create the perfect eye makeup remover. You can usually find canola oil and castor oil in health food shops and if you can't come across canola oil, rapeseed oil is the perfect substitute.
2. Jojoba Oil Based
Mix 1 ounce of rose water and 1 ounce of jojoba oil together and combine well. Olive oil, coconut oil or argan oil work equally well but jojoba oil is the closest to the sebum in your skin. This mixture is not only easy on your skin, it actually nourishes it as well. Your eye makeup will come off so easily, you'll barely even have to rub.
3. Witch Hazel Based
Mix 1 cup of witch hazel with a cup of coconut oil for a nourishing, sensitive skin-friendly eye makeup remover. Not only will it work really well, it smells beautiful because of the coconut oil.
For all of the above recipes, dab a swab of cotton wool into the mixture and wipe your closed eyes and voila, you will have clean eyes with no stinging or irritation.