10 Tips On How To Start Saving For Christmas NOW
By Orla, November 14, 2013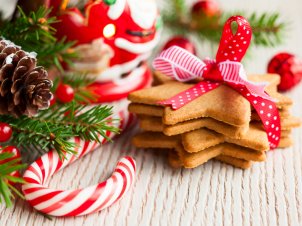 Christmas is a magical, exciting time of the year, but for some people it can also be quite stressful.
Bills can pile up and before you know it, you can begin feeling overwhelmed by all the extra costs Christmas can bring.
But if you budget yourself right and plan ahead of the festive season, you can sail through the celebrations without any of that worry and stress.
1.    Budget, budget, budget!!
If you start to budget now and begin planning ahead of time, you will ease the financial burden on yourself closer to the time!
Budgeting ahead will also leave you with more of your December paycheck, and therefore more spending money to really enjoy yourself over the Christmas holidays.
2.    Buy Own Brands Instead of Big Brands
Buying supermarket own brands instead of the big names like Heinz, Kellogg's, or Cadbury can actually save you a lot of money, especially when your shopping list is a lot longer than usual.
3.    Buy Food Ahead Of Time
If you buy a few freezable things here and there that you will need at Christmas time, you won't leave yourself with one massive shopping bill closer to the festive season when you already have lots of other expenses to tend to.
4.    Don't Buy Food For The Sake Of It
Don't over-buy traditional food such as Christmas cake, Christmas pudding, or mince pies that you know won't all be eaten in your house.
Instead bake some mince pies yourself. That way you can monitor how much you really need and you will save on pricey packaging.
5.    Buy Some Presents After Christmas
If you have family members of friends that you won't see until after Christmas Day why not wait until the St. Stephen's day sales and buy their presents then? You  might end up getting better mileage out of your money, and therefore a better present.
6.    Hand Deliver Cards or E-mail Christmas Greetings
Instead of spending a fortune on fancy festive cards and postage stamps, why not hand-make cards with the kids and hand deliver them to close relatives?
Or even better yet, why not save your money all together and send your family and friends a fun and festive e-card?
7.    Do a Secret Santa/Kris Kindle
Instead of running yourself ragged trying to get presents for everyone you know, organise a Secret Santa with friends or relatives.
It will save you all a fortune by only buying one present, and everyone gets a present, so everyone's happy. Set a budget that everyone agrees to.
8.    Fill Up Stocking Space
Fill up stockings with necessities that you have to replace every year anyway, such as underwear, pyjamas, socks, body lotion, hair styling tools etc.
9.    Don't Get Carried Away With Flashy Offers
It's only all too easy to let yourself get carried away with "3 for 2" or "Buy One Get One Free" offers, when in reality you only needed the one anyway.
The offers can come in very handy when buying gift sets in the likes of Boots, but if you end up buying three boxes of biscuits when you really just needed the one, you could be wasting your money.
10.   Make Your Own Gifts
Sometimes thoughtful hand-made gifts can be even better than shiny store-bought products. Websites like Photobox and Snapfish allow you to print pictures in bulk very cheaply, so you could make a family photo album for a grandparent and get the kids to help you!