10% Off The Perfect Christmas Gift
By Jessica, December 5, 2011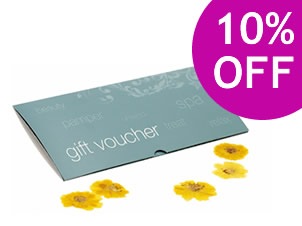 A recent Irish survey has found that spa treatments such as massages and beauty care are among the top three most likely gifts to be purchased around the country this Christmas. Coming only after cosmetic sets and chocolates, pampering packages have soared as purchase of choice, with 54% of respondents saying they would consider treating a loved one to a day at the spa.
Gift vouchers have also come out top, with 45% of adults across Europe saying their wish list would be topped with a gift card.
So, if you're one of many considering gifting with a spa treatment this Christmas, why not truly spoil them with a Spas.ie Gift Voucher? Available in denominations from €25 upwards, they can be redeemed in spas across the country for treatments, packages and weekends away.
10% Discount
And, as our gift to you, order a voucher before the 15th and you will receive a 10% discount on all vouchers over €75! So, for example, a voucher for the value of €100 will cost you just €90. Simply enter the discount code 'santa' when you buy your gift voucher. 
Merry Christmas!
* Results taken from Deloitte Christmas Spending Survey 2011.